Slopes / trails
300 m / 200 m
Herttuatar is an 81,3 square metre holiday apartment for 6 to 8 people with an access to slopes within just few minutes of walking.
The apartment has three bedrooms, living room, kitchen, sauna, bathroom, two half baths, glassed-in balcony and porch, plus a storage room. The high-quality facilities feature a jacuzzi, air cooling system and a separate ski maintenance room with forced ventilation.
The apartment has been remodeled in 2022.
The apartment has an open kitchen-living room concept.
Beautiful log walls create a magnificent atmosphere.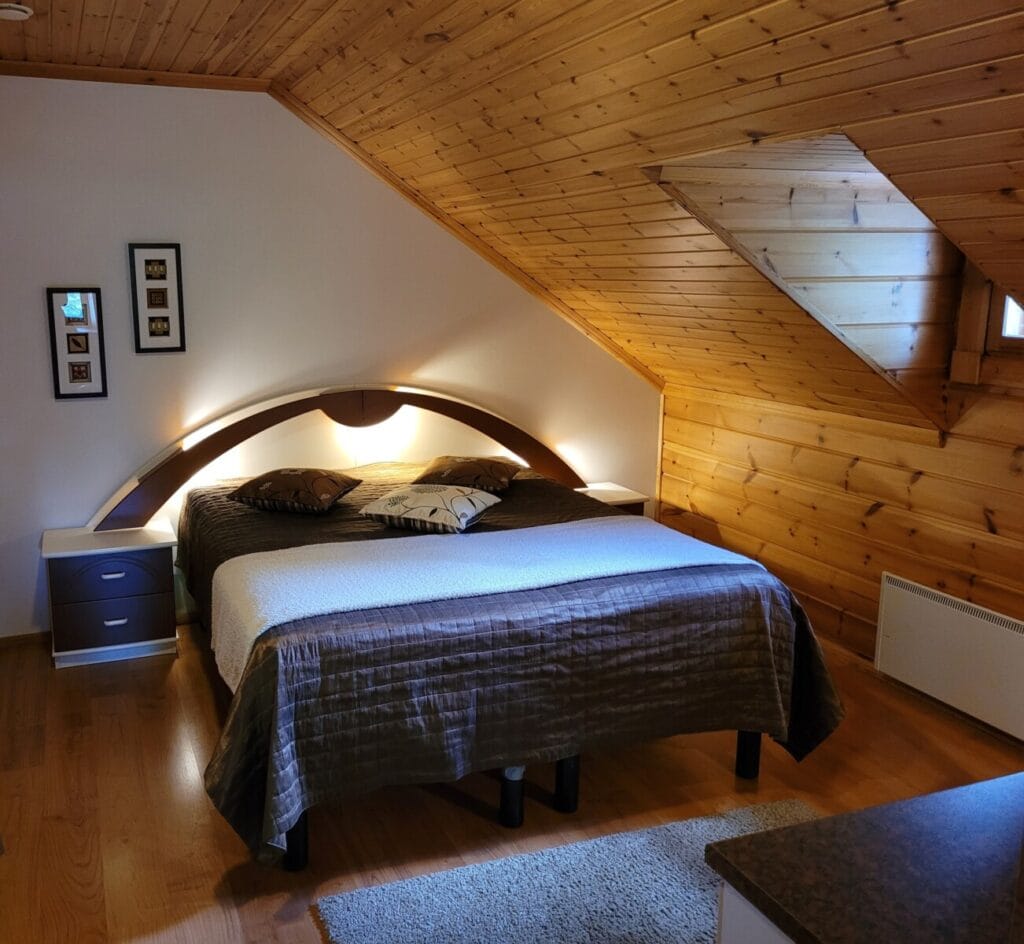 Three spacious bedrooms.
Glazed-in balcony has a beautiful forest view.
Herttuatar
Drying cabinet
Linen on request
Final cleaning included in the price
Jacuzzi
Fireplace
Cooling
Show all amenities
Kitchen
Dishwasher
Dinner service for 10 persons
Refrigerator/upright freezer
Coffee maker, kettle
Central vacuum cleaner
Cabinet dryer
Toaster
Microwave oven
Washing machine
Cooking equipment
Iron, ironing board
Electric stove/oven
Electric mixer
Bedrooms
Downstairs bedroom with 160 cm double bed (or separate beds 2 x 80 cm on request)
Upstairs bedroom with 160 cm double bed (or separate beds 2 x 80 cm on request)
Upstairs small bedroom with 80 cm bed
Upstairs lobby with 80 cm bed
Bed linen
Bed linen (including sheets, towels, bath towels and pamphlets) at an extra charge if ordered in advance
Sauna and bathrooms
CD/radio player
Hairdryer
Jacuzzi
Other comforts
Blu-Ray player
Central vacuum cleaner
Child equipment on request (baby cot, high chair, baby gates, potty)
Ski maintenance room
Spare soapstone fireplace
Cooling
Wi-Fi
Outside area
Car heater plug (for charging electric or hybrid cars at an additional cost of 15 € / day)
Glazed balcony
Gazebo
Barbecue
Technology and safety
Recording camera surveillance in the area
Mechanical ventilation
Electric heating
Restaurant Ainoa / Hotel Aateli
500 m
Location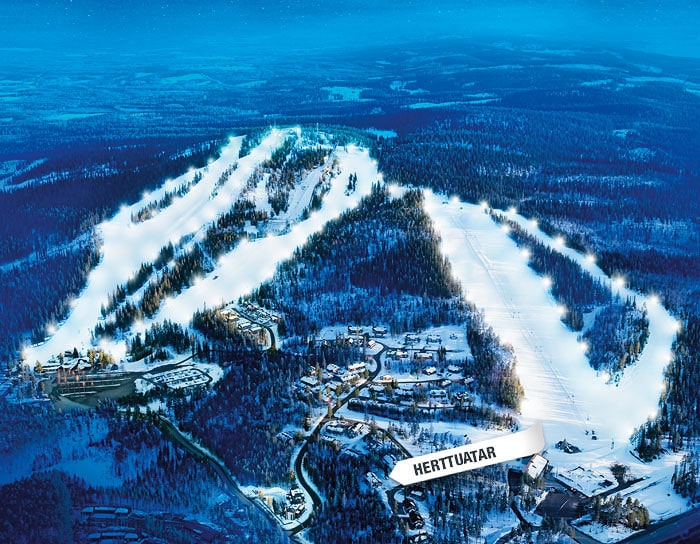 Reservation status and prices
KEY: from the reception of Hotel Aatel, Ilkanmäentie 2, 88610 VUOKATTI.
Tel. 044 555 2828.
Please check the opening hours in advance on our website.
Please inform the reception in advance if you arrive outside opening hours.
If you leave outside opening hours, please return the key to the black mailbox on the left of the main entrance of the hotel.
DRIVING TO HOTEL AATEL: When you arrive in Vuokatti, follow the signs to VUOKATINRINTEET and VUOKATIN AATELI. At the traffic lights in Rinnekeskus, follow Veikontie for about 400 m and immediately after passing under the bridge, turn right onto Ilkanmäentie, signposted HOTEL AATELI. The road bends up the slope and the hotel stays on the left. As the road curves sharply left, Hotel Aateli and its parking area are on the left.
Is final cleaning included in the price?
Yes, final cleaning is always included in the price. There are instructions in the cottages on what the customer should do before leaving.
What time is Check-in and Check-out?
Check-in for Aatelin Linna apartments is at 18.00 and check-out is at 14.00.
Check-in for the Emperor's Mansion is 18.00 and check-out is 12.00.
Other apartments and villas check-in at 16.00 and check-out at 12.00.

Where do I collect the key to the cottage I booked? What about returning the keys?
The keys can be collected from the reception of Hotel Aateli at Ilkanmäentie 2, Vuokatti. If you arrive outside reception opening hours, please contact reception in advance. You will also find instructions on how to pick up the keys in the booking confirmation you will receive when you make your reservation.
The keys will be returned to Hotel Aatel's reception. If you leave the reception after closing time, the keys will be returned to the white mailbox on the wall of the main entrance of Hotel Aateli.
What are the booking and cancellation conditions?
Click here to see our booking and cancellation conditions.
Is breakfast included in the price of my accommodation?
Hotel Aateli room rates always include breakfast.
Those staying in cottages and apartments can order a generous hotel breakfast in advance, read more.
Will Restaurant Ainoa be open during my visit?
The opening hours of Restaurant Ainoa vary depending on the season. You can check the restaurant's opening hours here.
When is Zen Spa open and how do I make a reservation?
Zen Spa is open during the opening hours of the reception of Hotel Aatel. You can make a reservation at the reception of Hotel Aatel, by calling 044 555 2828 or by e-mailing

Can I bring my pet to the cottage I have booked?
Pets are also welcome in many of our properties. See our pet-friendly destinations here.
On the website, the icons at the top of each property also indicate whether pets are allowed.
Sewing night at the Herttuatar (Duchess)
The Duchess's house smelled like rice porridge and fruit soup. Snow crackled under the runners of sleds, as the local burghers' and farmers' wives gathered once again at the Duchess's house to sew for the orphanage. The latest news was told and the newest offerings of the Duchess's kitchen were enjoyed …